ODESA, JANUARY 11th, 2013, CONTEXT-PRICHERNOMORIE ― Portuguese midfielder Tiago André Ramos Terroso has left Odesa FC Chornomorets, Context-Prichernomorie correspondent reports.
The press service of FC Chornomorets reported today, 11 January.
Management of the club complied with a footballer's request and canceled the contract by mutual agreement.
As previously reported, 24-year-old Portuguese midfielder Tiago Terroso signed a contract with FC Chornomorets 25 February, 2012. The agreement has been signed for a term of 2.5 years.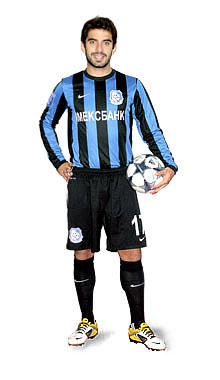 INFORMATION: Tiago André Ramos Terroso was born on January 13, 1998 in Vila-do-Conde in Portugal.
A product of Rio Ave youth system, Tiago joined the first team of the club in 2007. He was mostly a bench-sitter and appeared on the pitch quite rarely amassing only 6 appearances for the club.
In the 2010/11 season, Terrosa switched to a Portuguese Varzim Sport Club. This was a successful season for Tiago as he started nearly every game. His confidence on the pitch was appreciated by another Portuguese side União Leiria that competed in the country's first league at that time. The sides came to an agreement over the move of the player in the summer of 2011.
However in 2012 the Ukrainian side FC Chornomorets Odesa offered favourable conditions to the player and a good compensation to União Leiria. As soon as all the sides reached an agreement the midfielder moved to Ukraine having signed another contract. Tiago Terroso currently struggles as a part of Chornomorets for top positions in the Ukrainian Premier League.